This week's editorial is a guest editorial from Dr. James Swan. Are you interested in penning a guest article for Archery Wire? Do you have something on your mind to share with our amazing readers? I'm open to submissions and it could be a paying gig for you IF you are a member of the Professional Outdoor Media Association. Since I'm going to the president of the organization in June, it would only seem right to make that one stipulation. Send me a query Michelle (at) bulletproofcomm (dot) com.
---
By James A. Swan, Ph.D.
In November of last year, I had the good fortune to be able to produce the First Hollywood Celebrity Archery Shoot, which was a benefit for the National Archery in the Schools Program or https://www.archerywire.com/features/1ed4e3cf-9f02-4315-a528-e39ad58f40b6
The event took place in Simi Valley, CA, at a range that had escaped from the horrific fires that swept through the LA area. About 60 people attended, Hollywood archers included Frank Stallone, Tim Abell, Diamond Farnsworth, foley artist Stacey Michaels, Dr. Ron Ringo, (me) and several models who new comers to acting, as well as supporting archers competing for prizes, and some 16 kids from the IDEA Center High School NASP® team in El Cajon, CA https://idea.guhsd.net/index.html, and their archery coach, Logan Sebela. The kids were great. They all took home some prizes and two won new bows and arrows.
Since being founded in Kentucky in 2002, NASP® has made the sport of archery fun, safe and engaging for over 18 million students in over 14,000 schools in 47 states, nearly all Canadian provinces every year. Currently, over two million kids 4th-12th grade participate in NASP® every year. It is the largest youth archery program in history, and it's growing at 9.3% per year – about 1,000 new schools join every year.
Archery can be a lot of fun, but there's been some very solid research done on how NASP® benefits kids. When teachers have been surveyed about how NASP® has influenced students, 94% said that NASP® training is effective in teaching life-time recreational skills, 84% said it increased student confidence, 76% -78% said it increased student motivation, concentration & focus; 74% said it helped improve student behavior, 43% -49% said it improved performance & attendance; 40% felt it increased interest in other sports; 79% felt it increased interest in target archery, 56% said it increased their interest in bowhunting, and 30% said NASP® increased interest in other shooting sports.
The power of archery was obvious from the performance of the kids.
I congratulated Logan Sebela about how his kids were such good shots. He then gave me a story about one of the kids that truly hit the bullseye.
Logan said that this student came to IDEA Center High last year as a 9th grader. The student was autistic. And, like many students with autism, he struggled a great deal with social interaction and making friends. Logan said, "We were not sure how popular it was going to be as a school event but quite a few students were asking to shoot more often. So we ended up starting a NASP® archery club that shot at lunch twice a week. The autistic student didn't talk very much and would often communicate with gestures opposed to words. He's verbal, but feels awkward talking to people. But looking for a way to build bridges with fellow students, the autistic student ended up in the archery class and loved it. When the opportunity for the NASP® state tournament came up last year, he wanted to participate. He came and did great. He then went on to shoot in another tournament with us later that year. His mom was so excited that the autistic student found a group to belong to and he was participating in something outside of his sketchbook. His mom was almost in tears because she never thought he'd really belong to anything. This is now the 2nd year of our program and the student is participating and competing with the team."
The IDEA Center High School is unique. It's a Project Based Learning (PBL) school. Its courses center on students collaborating on a group project rather than in 6-8 classes in various subjects every day like most schools. IDEA Center high school is for those who genuinely want to learn but never could because of how public schools teach. "Idea Center," Logan said, "focuses on innovation, design, exploration, achievement in an emotionally and academically supportive and safe environment that develops critical thinking skills, academic literacy and risk-taking, to achieve academic, social, and emotional goals through reflection and self-advocacy https://idea.guhsd.net/Students/Archery/index.html as well teaching about archery. https://idea.guhsd.net/Students/Archery/index.html And in this case, not only had the new student found a way to interact with new friends, but the new student relaxed, felt more self-confident, and increased artistic skills as well as becoming a good shot.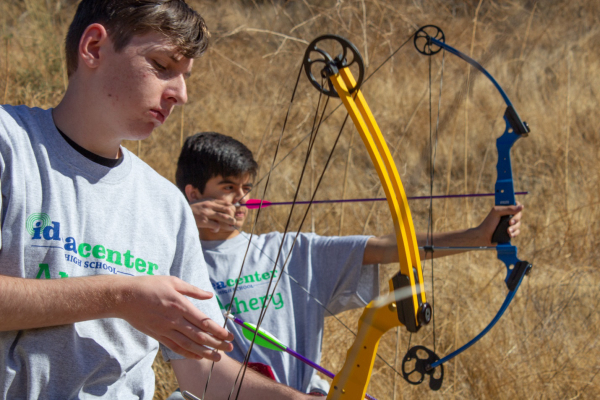 Learning about this accomplishment, I found myself putting on a cap I used to wear as a college professor of psychology. When we exercise, the brain releases certain chemicals which can help alleviate issues such as anxiety and depression, even if only for defined periods, and sports can develop fitness, develop skills and improve self-esteem. But they can also increase stress. And, I'd never heard of archery being a potential force of healing.
Autism, or autism spectrum disorder (ASD), is a broad range of conditions characterized by challenges with social skills, repetitive behaviors, speech and nonverbal communication. According to the CDC, autism affects an estimated 1 in 59 children in the United States today. https://www.cdc.gov/ncbddd/autism/facts.html It can involve symptoms like difficulty speaking and communicating, clumsiness, and sensory difficulties resulting in impaired social interaction. https://www.drweil.com/health-wellness/body-mind-spirit/disease-disorders/autism/ However, in some cases of autism a savant might be able to multiply large numbers in their head, play a piano concerto after hearing it once, or quickly memorizing complex maps. https://www.nimh.nih.gov/health/topics/autism-spectrum-disorders-asd/index.shtml
Shooting sports in general can be a way to develop skills of concentration. https://www.sciencedirect.com/science/article/abs/pii/0022399980900197 Archery, however, requires mental and emotional concentration as well as physical skills that enable one to focus on mind and body to accomplishing something https://www.tandfonline.com/doi/abs/10.1080/09735070.2016.11905469 And, it's very safe. In the history of NASP®, involving over 18 million kids, Roy Grimes, who created NASP®, says that there's been only one incident of an arrow bouncing back off a target where it hit a kid in the leg, and no harm was done. Archery is safer than ping pong or bowling, and it's life-long.
In studies of serious firearms competitors, there are examples of some athletes suffering from stress. Certainly the overall attitude of a group of kids shooting archery in a NASP® team helps reduce stress, but I wondered if there is something special about archery, so I began searching online and discovered that there are many examples of archery being a healing force, as well as enjoyable recreation. https://www.bow-international.com/features/archery-for-autism/
https://www.abilities.com/community/archers-for-autism.html
http://www.papagoarchery.com/tag/target-autism/
One article in particular from Cathy Pratt at the Indiana Center for Autism basically hit the bullseye. https://www.courier-journal.com/story/news/local/indiana/2014/04/20/club-teaches-archery-life-skills-kids-autism/7950251/ "What happens with kids with autism is they develop fixations," Pratt says. "Those fixations can help establish a connection, help establish a rapport, help encourage communication and socialization."
"Children on the autism spectrum tend to be good at tasks that require concentration and focus," said Mary Roth, at the Autism Society of Indiana. "Kids with autism would be good with something like archery because it requires a lot of focus," Roth said. "It's not just to participate at something, it's something they can actually excel at."
Then I found another bullseye article from Illinois. https://www.wifr.com/content/news/Archery-for-Autism-at-Settlers-Park--488211901.html and another about archery and Aspergers's, which is a form of autism. https://legendarchery.com/blogs/archery-bowhunting-blog/34202372-archery-works-wonders-for-mental-health-issues#
So, I can't say that archery is the only sports that can help people with autism, but it sure looks like it can. Archery helps people get outdoors more often and helps them feel better and enables one to tap into and express instincts that have been part of human nature for thousands of years, which is definitely healing.