Over the last few months, the wires have ran notes and articles on an event whose goal was to increase awareness of archery. And folks, anytime we have something like that going on, we need to support it. Since I couldn't fly to California for the event, nor did I know any celebs to participate in Dr. Swan's brand-new tournament, I tried to help him the best way I could – by dedicating space for it. And so this week, Dr. Swan is sharing the success of that tournament in our editorial. By the way, if that "Rambo bow" ever goes up for auction, I will be the first in line to bid. How cool is that piece of movie lore?? -Michelle Scheuermann, editor, Archery Wire.
Article by James A. Swan, Ph.D. www.jamesswan.com Photos by Andrew Swan.
On November 16, 2019, an event took place in southern California that hopefully will inspire archery in kids and programs in mainstream entertainment – The First Annual Hollywood Celebrity Archery Shoot, a benefit for the National Archery In The Schools Program, https://www.naspschools.org/ was held at the Conejo Valley Archers range https://www.cvarchers.com/ in Simi Valley, CA, which is just north of Hollywood.
Pulling off this event was a challenge. On either side of the range there had been recent fires and rain had not fallen there in six months. As winds blew in from the NE, dust and some smoke were in the air, but we pulled it off and it was a ball.
Because the fires had set back production schedules in TV and film productions in that area, some celeb people were called in to work overtime. Nonetheless, we had about 60 participants – on-camera actors and stuntmen and women, and off-camera production folks from Hollywood; a team of retired California game wardens who served as security and competed (they had been stars in "Wild Justice", a couple pro archers, supporting archers who paid to compete, and 16 kids and their teachers from the National Archery In The Schools Program at IDEA Center High School in San Diego. https://idea.guhsd.net/
Patrick O'Connell, Special Events coordinator from NASP, started things off explaining to all how NASP got started and has grown to reaching about two million kids a year nation-wide.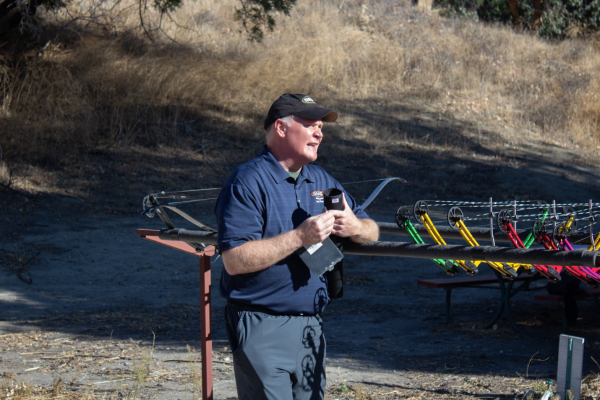 Then Logan Sebela, the NASP teacher at IDEA HS, showed how he had taught the kids to shoot.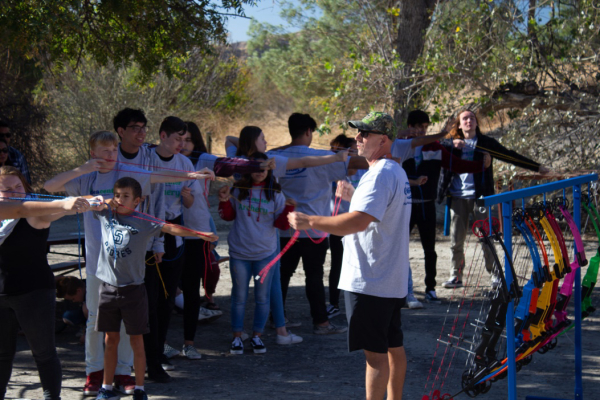 Then we hit the road to the range, shooting 14 field targets in the AM and 14 more 3-D targets in the afternoon. The kids all shot their NASP distances – 11 and 16 yards – and the adults shot regular distances.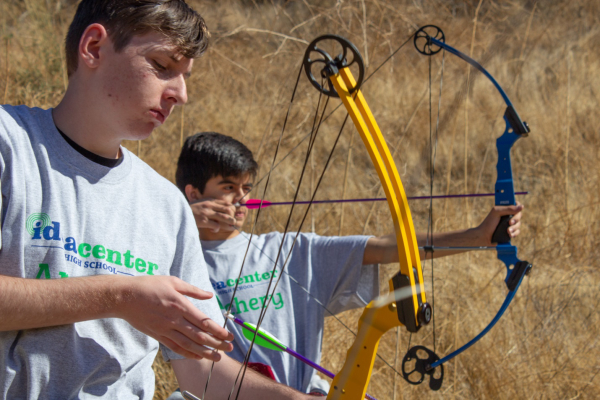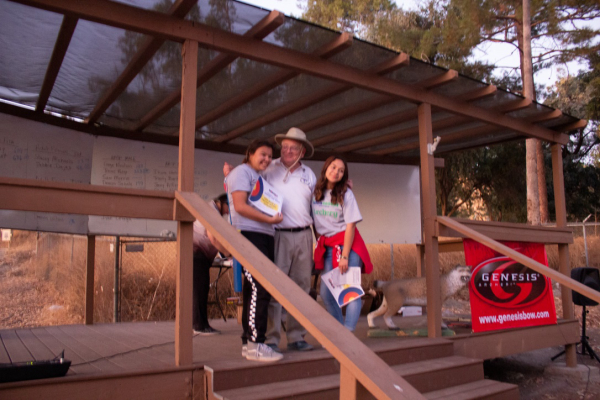 The culminating event was a distance shot – 100 yards away there was a 7' tall white rabbit. Pinned to his side was a tiny target the size of a dinner plate. You got two arrows to hit the target. Closest to the center would win a Matthews bow. After the first arrow, Dave Gore, national champion pro archer was clearly in the lead. Logan Sebela, the teacher from IDEA Center High missed the rabbit by ten feet on his first shot. But when the second shot came, Logan just followed "The Force" and let go and his arrow ended up half an inch closer to the center of the bullseye on the rabbit than Dave Gore's shot. The result was that Logan won the Matthews bow.
Actor and musician Frank Stallone was the top celeb scorer, but the prize for best bow of the day clearly went to Diamond Farnsworth, the stunt coordinator of the "NCIS" TV show. Diamond started out as a stunt man years ago and in "Rambo: First Blood" (1982) he was Sylvester Stallone's stunt double. This included his shooting arrows for Rambo. Diamond brought along his Rambo bow for all to see. Only two of that specific kind were ever made. The bow had a 75 pound draw.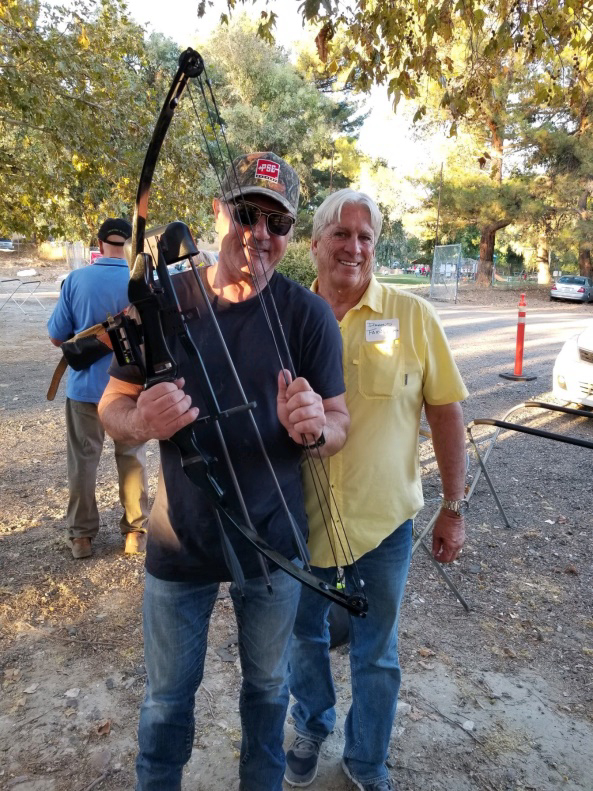 Special thanks goes to those who made this event happen including: the Weatherby Foundation, Genesis Bows, Matthews Archery, Easton Archery, Rinehart Targets, Morrell Targets, Pine Ridge Archery, Archery Focus Magazine, Turners Outdoors, and celebs who donated items for raffles that they had used on camera, as well as the National Archery In The Schools Program, who received a check to help carry on NASP archery.
As for next year…… stay tuned.