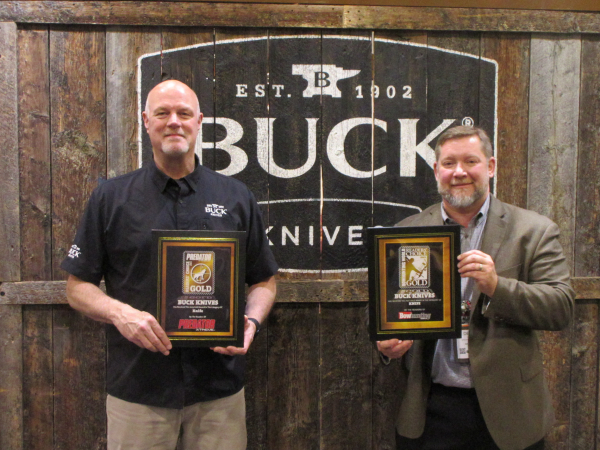 POST FALLS, ID— Buck Knives, Inc., a global leader in the outdoor, sporting, and everyday carry (EDC) knife markets, announces that the company's knives have received recognition for being a leading knife brand with hunters across America and for several newly released knife models.

First, Buck Knives earned two GOLD honors by readers of Cole Publishing's Bowhunter World and Predator Xtreme magazines. The Post Falls, Idaho-based knife manufacturer has won this recognition numerous times across the past two decades—indicating that Buck Knives is one of the top consumer recognized and trusted knife brands.

"Buck Knives has become the GOLD standard in the knife category, winning GOLD 17 times in the last two decades with our Bowhunting World readers," stated Derrick Nawrocki, President and Publisher of Grand View Media. "We know our readers are very sharp, you could say as sharp as a Buck knife." Buck knives are carried and used by hunters from coast to coast—and also won a second GOLD award.

"Buck Knives is no stranger to winning GOLD awards and have now done so 8 times in a row with the readers of Predator Xtreme magazine," continued Derrick Nawrocki. "Our Predator Xtreme readers have spoken up, and simply put, a Buck knife is hard to beat." Voting for both publications is conducted online with readers for a wide variety of brands in multiple categories.
Bowhunting World magazine has been published for more than 70 years and Predator Xtreme magazine has been published for more than 25 years. The GOLD awards were presented during the recent Shooting, Hunting and Outdoors Trade (SHOT) Show in Las Vegas.

Adding to those accolades, Buck Knives' new Alpha Series knives were honored by Big Rock Sports as the "2023 Best New Knife." There are four models of the new Alpha knives including Hunter and Scout versions. Buck Knives released more than 50 new knives, including more than two dozen hunting category knives, to the market and consumers during the SHOT Show.


ABOUT BUCK KNIVES: For more than 120 years, Buck Knives has been handcrafting the finest quality knives and tools using the highest-quality materials and state-of-the-art processes, like the exclusive Bos heat treatment for blades. Buck Knives are built to perform at the highest level and last for generations. Located in Post Falls, Idaho, and employing more than 320 people, Buck Knives is proud to make knives in America and stand behind those with their Forever Warranty. Visit www.buckknives.com or call 800-735-2825 for more information.