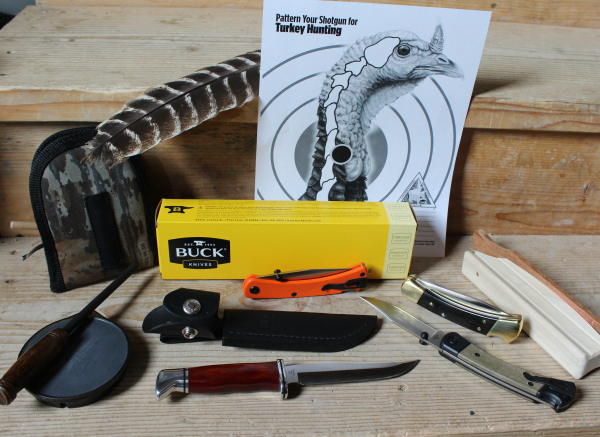 POST FALLS, ID— Gobble, gobble, gobble!!! Did you hear it?
Turkey hunters everywhere are scouting, patterning shotguns, and prepping gear. Gobbler hunting season is on the horizon! Along with that coveted turkey tag stashed into a hunting vest pocket, remember to pack a sharp knife. Success means filling your tag—and cutting up a turkey that will roost—or rest—on your table in the future.
From notching that turkey tag when success happens to removing the tasty turkey breasts and drumsticks, a knife—the right knife—makes your field and butchering chores much easier. The team at Buck Knives offers these tips:
• First, decide whether a fixed- or folding-blade knife is a best fit for you. A fixed-blade knife is easier for many hunters to use. This knife can be easily secured in a sheath and then safely stored in a hunting pack or vest. Folding knives, however, tend to be smaller and easy to store in pockets, but remembering which one of the many turkey-vest pockets you place a knife in can be a challenge. Once you have a folding knife in hand, be certain the knife blade operates properly and will lock securely into the open position.

• If a fixed-blade knife is the best choice for you, take a look at Buck Knives' 102 Woodsman Pro Knife with a 4-inch clip point blade that is designed for detailed chores, like removing a turkey breast from the bones. The sturdy Woodsman Pro Knife features full-tang construction and a finger guard. Additional details can be discovered at www.buckknives.com.

• For turkey hunters who prefer a quality folding knife that will stay sharp, Buck Knives' 110 Hunter Sport Knife, and the more compact 112 Ranger Sport Knife, are great options. These knives have easy-to-access thumbstuds on the blade and an anodized aluminum frame with durable O.D. green canvas Micarta® inlays. Those knives have blades constructed with S30V steel and are Bos heat treated to aid with edge retention.

• If you are the type of hunter who sometimes forgets a knife or other gear at the hunting site, consider packing and using one of the many Buck Knives available with blaze orange handles. Look in the popular Pursuit series or at the Slim Pro TRX knives.

• Remember to carefully and thoroughly clean all knives after completing your turkey processing chores, especially folding knives, so the knife is easier to open and use the next time you need it. Be certain also that the knife is dry before storing or placing into a sheath.

• Finally, when turkey hunting, know and follow all safety rules and regulations. Good luck!

ABOUT BUCK KNIVES: For more than 120 years, Buck Knives has been handcrafting the finest quality knives and tools, which are designed specifically for hunters, anglers, outdoorsmen, and knife enthusiasts alike. Using the highest-quality materials and state-of-the-art processes, like the exclusive Bos heat treatment for blades, Buck Knives are built to perform at the highest level and last for generations. The nearly 200 knives offered by Buck Knives are arranged in categories by interests, such as legacy, hunting, every day carry and outdoor uses. Located in Post Falls, Idaho, and employing more than 300 people, Buck Knives is proud to make knives in America and stand behind them with their Forever Warranty. Visit www.buckknives.com or call 800-735-2825 for more information.