When the ATA made the tough decision to move their 2021 online, they found great partners to help still make the event a 'must-watch' event. One of those partners is with Outdoor Sportsman Group. They are launching the "ATA New Product Premiere," a strategic media partnership that will generate an unprecedented level of multi-media coverage and promotion for the archery and bowhunting industry, on January 16 on Sportsman Channel. ATA Online 2021 takes place January 11-15, 2021. Since this is so fresh and new, I asked Mike Carney if he would give us a few minutes to explain this event further – and why you need to watch.
And everyone, I wish you the Happiest – and Healthiest – of Holidays as we finish our 2020. Thank you for reading my crazy editorials this year – who knows what 2021 will bring us, but I'll be here every Tuesday – Michelle Scheuermann, editor, Archery Wire.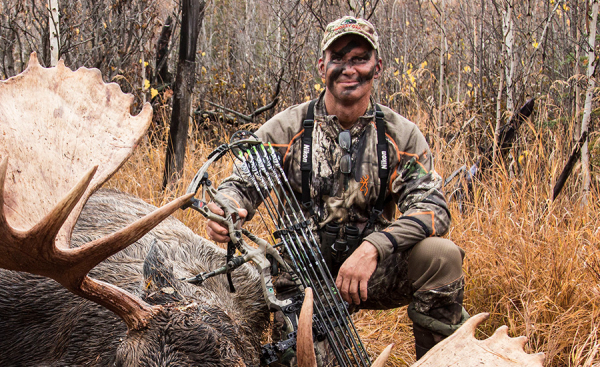 Q1: With the loss of physical trade shows, Outdoor Sportsman Group is certainly trying to turn lemons into lemonade with the launch of the "ATA New Product Premiere" to air on Sportsman Channel and Outdoor Channel on January 16. What has been the response so far to this new idea? How are you conducting these reviews and interviews?
A1: I don't know if it's exactly "turning lemons into lemonade," but I understand the inference. Without a doubt, this pandemic year has issued new challenges to all of us in the archery and bowhunting communities, and all of us have had to adjust to make the best of a difficult business environment, from supply chain management disruptions to domestic manufacturing challenges. Fortunately, consumer demand and sales of archery equipment rose sharply through the pandemic versus the prior year, as more consumers participated in target shooting and bowhunting across the nation. Maintaining and growing that consumer demand in 2021 is, obviously, key. Being the largest multi-media content provider in the outdoor space, we've seen demand for our products grow exponentially and we've had to overcome our fair share of hurdles, but we're uniquely positioned to provide marketing solutions to keep demand stimulated. Whether it's through a TV program like the "ATA New Product Premiere," an insightful digital roundup on one of our 20 websites, or a colorful feature article spotlighting gear in one of our 16 category-leading publications, we specialize in taking cutting-edge gear content to outdoor enthusiasts, whatever their hunt-shoot-fish pursuit, and wherever they are. Realizing that COVID-19 was going to greatly complicate our show season and alter how our partners get the news out on their new products, this past spring we developed a concept that we were able to prove in July when we presented the "iCAST New Fishing Gear Guide." After seeing that televised product, the National Shooting Sports Foundation soon reached out to partner with us in a similar but more robust effort for the SHOT Show. Now we're thrilled to be working with the Archery Trade Association, and the response has been gratifying! That's no surprise because manufacturers get a turnkey marketing solution to help replace the significant media generated during the ATA show and the opportunity to work directly with our professional journalists via easy, virtual meeting technology, and all the content is then edited and packaged for television by OSG's award-winning video production team at Winnercom, and also disseminated in our print periodicals and their many social and digital outlets.
Q2: Virtual trade shows have received mixed reviews in 2020 as many struggled to get something out there for their members and constituents. By hosting an on-air special, you are getting the most intel out in a short time, but there isn't that interaction seen with in-person events or even online events – how do you hope to still interact with the consumers on the launch of these products and reviews?
A2: Certainly, the dealer/retailer interaction and cumulative consumer media exposure of a physical show is tough to duplicate. There's nothing like talking face-to-face with your customers. But, ATA and OSG have formed this partnership in such a way as to grant the ATA dealer/retailer member base the first look at the industry's latest and greatest new products during the ATA 2021 Online Virtual Show event on January 11-15. It's during that period that ATA retailer members will have the opportunity not only to view new product information, but to interact directly with manufacturers on the ATA's online platform. But make no mistake, that week of trade business will be complemented by an unprecedented level of content across all of OSG's diverse digital and social outlets, and of course, that coverage will be anchored by the 30-minute, no-commercial-interruption roadblock "ATA New Product Premiere" airing on Outdoor Channel and Sportsman Channel the evening of Saturday, January 16. Throughout that virtual show week, you can count on OSG's best-in-class editorial team to be fully engaged and responsive to the needs and interests of the marketplace's largest consumer audience. That's what we specialize in doing.
Q3: How else are you getting the word out on these new products and reviews?
A3: We'd be remiss not to mention all of the hard work in which our brand editors are already involved to create maximum media exposure for our partner's new products; accumulating, reviewing, testing and field-testing all of the new-for-2021 gear as it's made available to us. The ATA's dealer/retailer members will get the first look when the glossy, 100-page Petersen's Bowhunting New Gear Guide mails direct the first week of January, and all "ATA New Product Premiere" partners will see their products spotlighted in ATA Product Roundups in either Petersen's Bowhunting March '21-Equipment Issue (on sale February 2), Bowhunter Magazine's April/May '21 Spring Issue (on sale March 2) or June '21-Gear Special (on sale May 18).
Q4: If a business is on the fence about becoming involved with this because it is new and unknown – how would you explain this excellent opportunity to become involved at the premiere event?
A4: First off, 2020 is all about confronting the "new and unknown!" This is a one-of-a-kind opportunity created by the ATA's keen awareness of member needs, for manufacturers to team up with the marketplace's most-trusted one-stop-shop for gear coverage and to use easy, likely very familiar virtual meeting technology to ensure priceless new product information gets shared across a massive, truly unequaled multimedia platform. We're all going to miss seeing our industry friends at the physical show, but you don't need to miss out on the media exposure. To make sure you don't, visit http://www.outdoorsg.com/about/ata-show-new-product-premiere/.