I asked my friends to help me spy some fun and interesting things at the 2020 ATA trade show – and they didn't disappoint me. So thank you to Trent, Andrea, Kim and Nick for texting me over the show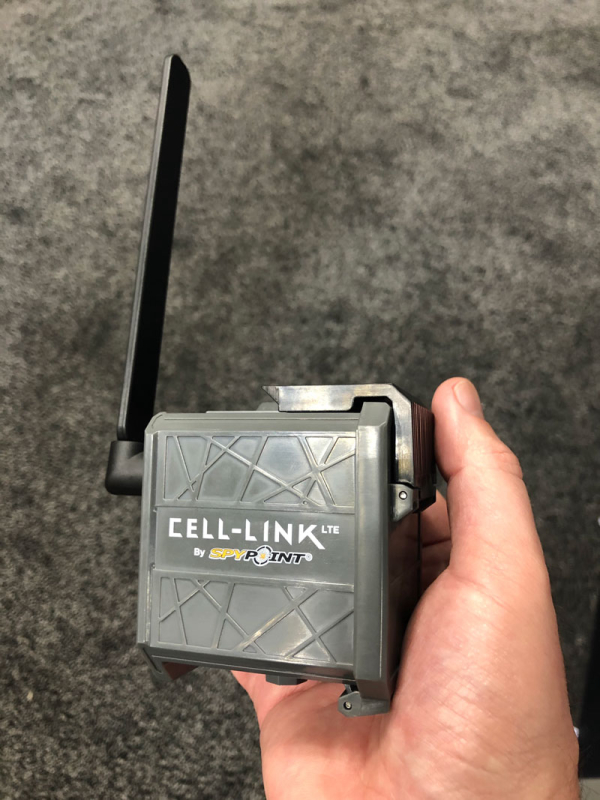 Trent Marsh works for Spypoint Trail Cameras, so of course he immediately texted me his latest and greatest gadget – Spypoint's CELL-LINK, which turns virtually any non-cellular camera into a cellular device. That, my friends, is pretty darn cool. Visit http://Spypoint.com/2020 for details - and see more of their new releases.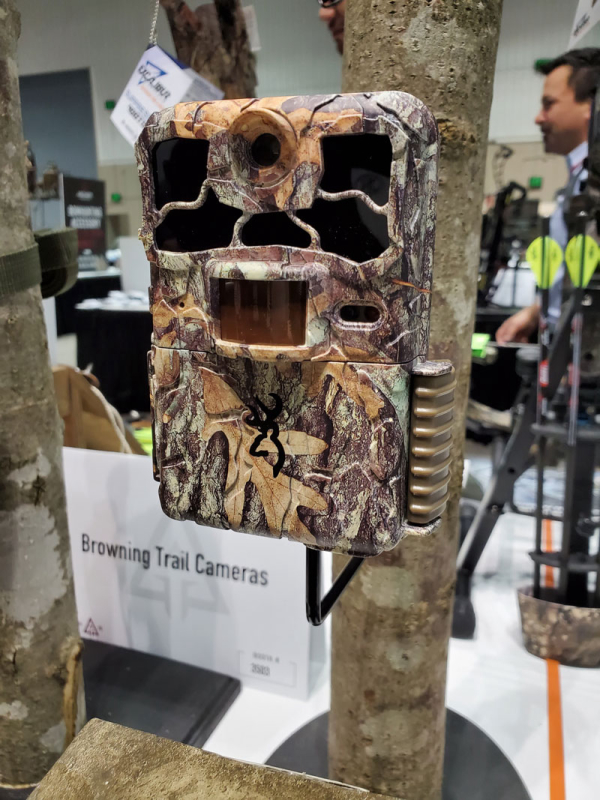 Trail cameras are on fire this year (yet again). Browning Trail Cameras also came out with their Spec Ops Edge, which offers 20 MP image resolution, adjustable power "Night Vision" IR illumination that reaches out to 80 feet (wow) and a 1920x1080 HD video processor. (Good for home security too? Yes!) Andrea Rothove of Huntress View said on her Instagram that these new trail cameras Browning is putting out are "…going to be hot." So there you go.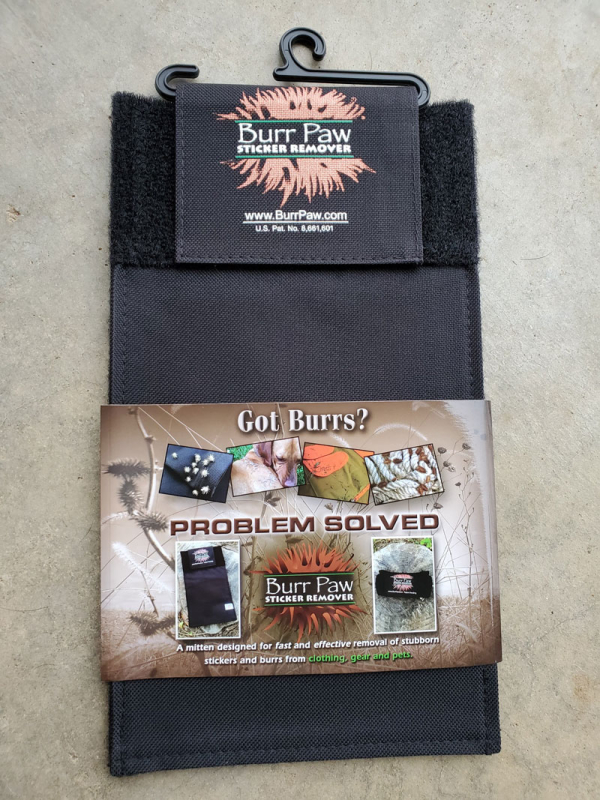 Andrea also found a fun gadget I would buy right now – a burr sticker remover called Burr Paw. I grew up around farm animals and getting stickers off animals is NOT. FUN. So when Andrea said in just one swipe, this mitt removed the stickers, I was sold. She said she even bought one on site! This mitt also removes stick-tights, cockleburs, begger's lice and more from clothing, gear and yes, pets.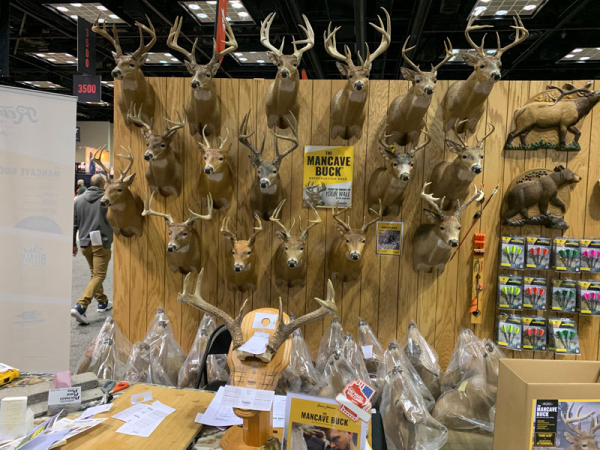 I was spying on Nick Pinizotto's Instagram feed, feeling a little FOMO, and then he sent me this image from ManCave Buck from Revolution Innovations. You buy the foam deer head – and insert your own antlers! I mean, if that doesn't save on reinforcing your walls, and the fear of having that deer fall off a wall…which is like, my biggest nightmare. In this video from The Outdoorsman, the owner goes over the fact the mount is a new category for those hunters who may have a smaller deer they don't wish to mount, or they simply don't have the funds. And here I'm all worried about the walls….lol.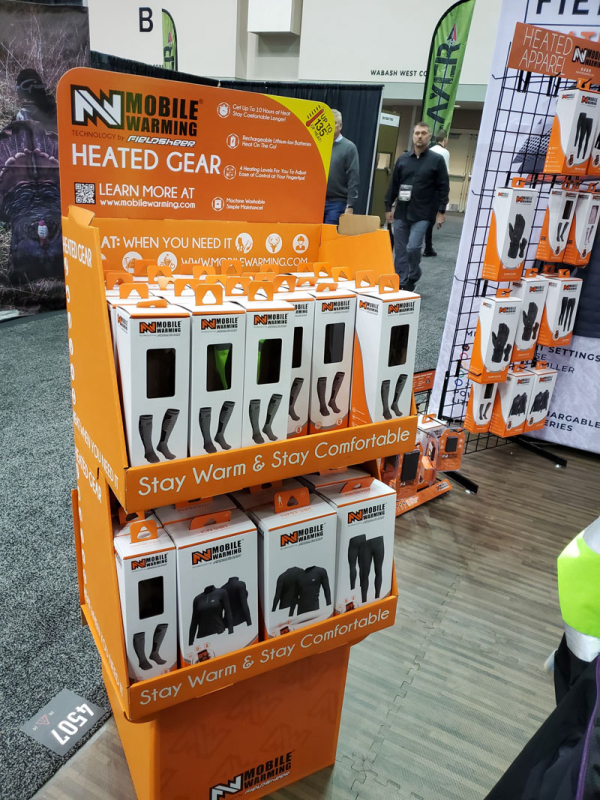 Living in the Midwest my entire life – my winters revolve around how not to freeze my tush off. These things include: buying a Sherpa steering wheel cover and investing in an actual warmer coat this year (like, REALLY investing). Andrea found a heated clothing system from Mobile Warming, which allows you to control the warmth setting via your phone with Bluetooth, so that's pretty darn cool. I don't care who you are – being cold while hunting is not fun. If you are comfortable, you can sit longer, and have a higher chance of being successful. So I consider warmer gear investing in my success.
And a bonus: My friend Kim told me the best thing from the show for her was the networking. Ah yes, let's not forget many of the reasons WHY we all attend trade shows is really to talk shop with people you've never met. Some of us are more open to asking a lunch table if you can join them - or share an Uber from the airport to the convention center. It takes practice and stepping out of your comfort zone to NOT put your earbuds in as soon as your butt hits the seat on the airplane. I know, I know, you need your "alone time" on a plane with 200 other people. But as trade show season unfolds before us, consider not always hanging with your same group from breakfast, to lunch, to dinner. Step away from your comfort zone and open up a little bit – you never know what's waiting for you.
Lastly, for a most excellent round-up of what was new at the 2020 ATA Show – a job I could NEVER do as well as them – please visit my friends at Petersen's Bowhunting.
If you'd like to meet up at SHOT Show next week, I'm around!
-Michelle Scheuermann, editor, Archery Wire