COLORADO SPRINGS, Colo. – Success in sport can often be viewed as the destination. That place on the podium reward for the effort and hard work but also an opportunity to reflect, for the glistening medal or moment in the spotlight offer little insight into the journey endured.
The road to Paris 2024 began in earnest earlier this month with stages #1 and #2 of Olympic Trials Qualification. Casey Kaufhold is perched at the top of the women's division, with four stages remaining, followed by Catalina GNoriega and Jennifer Mucino-Fernandez.
GNoriega was born in San Diego but grew up in Mexicali on the U.S.-Mexico border. Mucino-Fernandez was raised in Mexico City, having been born in Boston.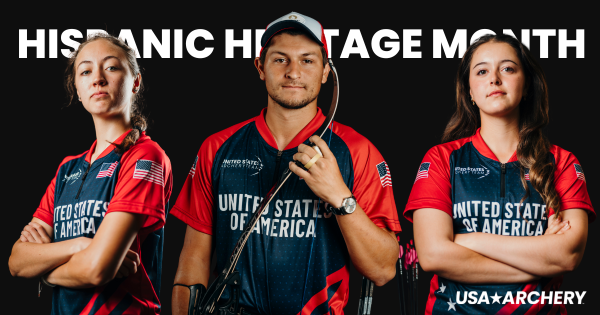 Speaking to World Archery, GNoriega said, "The US is a very diverse country. There's a ton of different kinds of people and I think representation can inspire a lot of younger Latinos or any other US minority. For any minority, it's always good to have representation."
In the men's division, Brady Ellison tops the standings after two stages. Sat behind Ellison is Trenton Cowles. Cowles was born in Tarzana, Calif., but when he competed at the 2018 Pan American Games in Medellin, Colombia it meant a return to his family's roots and gave him the opportunity to shoot in front of relatives, something he cherished.
Cowles would go on to represent the United States at the 2018 Youth Olympic Games in Buenos Aires, Argentina, alongside GNoriega. And while Mucino-Fernandez has since worn the Stars and Stripes at an Olympic Games, in Tokyo two years ago, that remains the ultimate aim for Cowles and GNoriega. Mucino-Fernandez, meanwhile, is just as hungry to return.
"Our focus is to take a full team to Olympics again and hopefully bring medals back home," Mucino-Fernandez told World Archery. "This is going to be a really hard process, but I think everyone in the team can do it."
Archers with Hispanic roots, giving their heart and soul for the United States. Never forgetting where they came from, while having a strong sense of where they want to go.