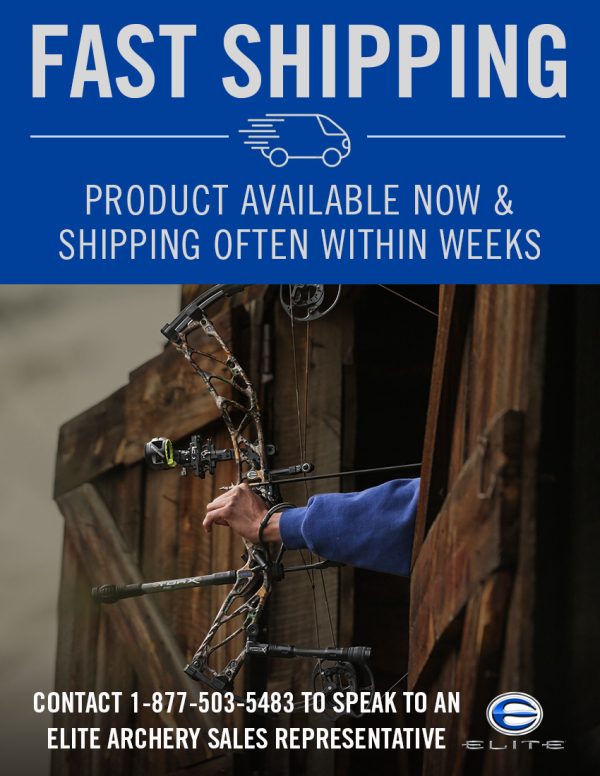 WEST HENRIETTA, NY – In a time where supply chain constraints continue to burden the hunting industry, Elite Archery has managed to thrive and keep up with unprecedented demand to deliver the World's Most Shootable bow – often in just a few weeks to retail partners.

Long backlogs and lead-times are discouraging and can result in the loss of a sale. "If our retail partners aren't successful, then our company isn't going to be. And clearly you can't sell what you don't have," Paul Guillot, VP of Sales states. Thankfully, we've been able to ramp up production and drive down lead-times so that our retail partners aren't put in that position and collectively we can serve our customers hitting the woods later this fall."
"The response to the 2021 bow line up has been overwhelming positive, and demand continues to climb as we enter peak selling time," said Josh Sidebottom, COO of The Outdoor Group. We've been able to shrink our lead time through coordination with our suppliers, adding machine and assembly capacity, and some incredibly long hours for our team. In comparison, our current timeline to get bows out the door and into our retail partners is one of the shortest."

Since 2006, Elite Archery has been known as The World's Most Shootable Bow—and with the introduction of S.E.T. Technology (Simplified. Exact. Tuning) Elite bows have gained the reputation as being the most tunable and easy to use. A Lifetime Warranty + unique Hunt Guarantee makes the American-Made product a confident choice among hunters and archers.

Retailers looking for bows and archery accessories in a variety of price points are encouraged to reach out an Elite Archery Representative today by calling 1-877-503-5483 and/or visit EliteArchery.Com.
ABOUT THE OUTDOOR GROUP
Established in 2012 and headquartered in West Henrietta, New York, The Outdoor Group is the parent company to the premier brands of Elite Archery, Duel Game Calls, Scott Archery, Custom Bow Equipment, Winner's Choice Custom Bowstrings, Slick Trick Broadheads, Solid Broadheads, CAMX Crossbows, and Lynch Mob Calls.
- # # # -
News Media: For more information, contact Corrine Yohann Bundy at cyb@togllc.com