If you are like me, you may have several virtual webinars and meetings on your calendar for the next few weeks as shows such as the Archery Trade Association (ATA) navigate how to push an in-person show to an online show. Honestly, I would NOT want to be the trade show planner for ATA, nor the Shooting, Hunting and Outdoor Trade (SHOT) Show. This has to be so very stressful as there are many unknowns – the biggest one being "If we build it, will they come?"
I believe they will attend, virtually, if the deal is sweet enough – or interesting enough. For example, Wild Sheep Foundation is entering every registered attendee into drawings for hunt prizes valued at $50-60,000. (Sheep hunts aren't cheap, as we all know.) The ATA Show is offering so many educational opportunities, it is difficult to keep track of them all. But honestly, the one you REALLY need to attend, is my "Instagram Growth in 5 Easy Steps" on Friday, January 15 at 1 p.m. CT. Look to register for this class under the "Free Educational Classes" in your My ATA Dashboard. Plus, I'm giving every attendee a free 30-day content calendar. Again, I'm trying to sweeten the deal for you to join me at 1 pm CT on a Friday afternoon.
And what about the exhibitors? How are they fairing virtually showcasing their products? The ones who put thought and effort into it, like the Zoom call I had with QuietKat, where they gave me a tour of their three bikes in a booth-like set-up located inside their main distribution warehouse, will do very well. (See my Zoom screenshot) If others haven't embraced online video call software yet – please get with the program. This is 2021. You had 8 months in 2020 to figure it out.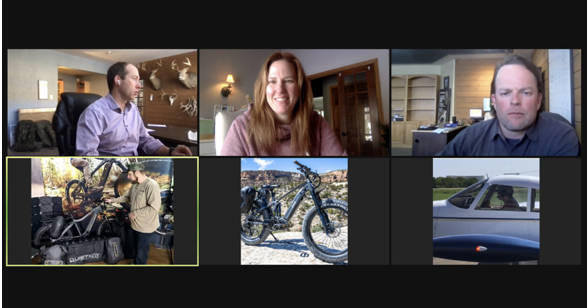 There is something missing, however. And that's seeing my friends. I am sad to not see my clients and friends this winter. It sucks.
There was that time I had a baseball signed by Hunter Strickland (come back to the Giants, Hunter!); or the time my buddy, Kim, and I made Boomerang videos in the Orion Coolers booth. (They were for social media; it was work.) Or how about that one time, many moons ago, when I walked on stage during the ATA evening festivities and introduced a little-known TV network called Sportsman Channel…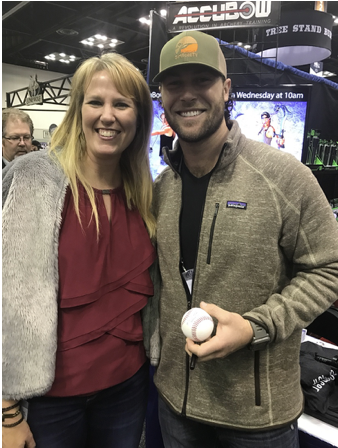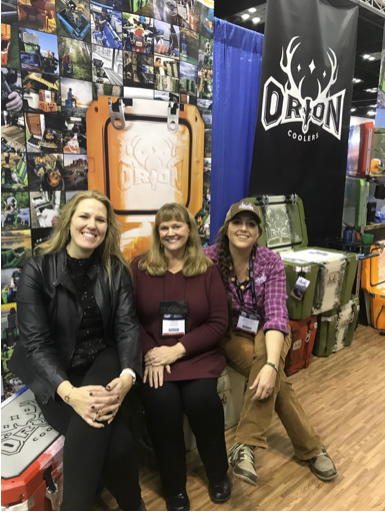 I asked Christian Berg, editor of Petersen's Bowhunting, about attending the ATA Online 2021 this year, "I've probably been to about 17 or 18 ATA Shows previously, and it's definitely a disappointment not to be going this year. For me, the biggest loss is not being able to see so many friends that I only see in person once each year. The archery community is absolutely packed with wonderful folks, and I always look forward to the opportunity to catch up with people, swap stories about the hunting seasons that have just wrapped up and talk about what we are excited about for the year ahead, both in terms of new gear and new hunting adventures."
Agree, Christian.
At the end of the day, you want to know what's new, and what you should buy. For that, I'm going to leave you in the capable hands of Christian Berg and Jeff Waring, Petersen's Bowhunting publisher. Waring shares, "But while we will miss attending the physical show, many aspects of our brands' show-time preparations have remained the same, and we are months into the planning and creating of 2021 new-product content with many of our archery industry partners, for our special show-oriented publications like the Petersen's Bowhunting New Gear Guide, for our online gear reviews on bowhuntingmag.com and bowhunter.com, and new this year – for TV! An early adopter of virtual conferencing and digital video technologies, Outdoor Sportsman Group was uniquely positioned to partner with the Archery Trade Association on the 'ATA New Product Premiere,' a first of its kind multi-media program bringing video gear reviews to the ATA's retail partners during the virtual show and then to consumers when the program airs at 6 p.m. the evening of Saturday, Jan. 16, on both Outdoor and Sportsman Channels (the day after the ATA 2021 Online event wraps up). Folks definitely won't want to miss this first look at groundbreaking new products from some of the biggest names in the archery business."
"See" you online,
-- Michelle Scheuermann, editor, Archery Wire