If you don't know Trent Marsh… wait, everyone knows Trent. He's been in the industry I think as long as I have (maybe longer?) and does a fantastic job at balancing life, work and family as the Editorial Director for SPYPOINT. No small feat when SPYPOINT is based in Canada and there's been a lockdown for two years. At this last Archery Trade Association, I noticed Trent's group making a major announcement at the show that literally broke the internet. So, I had to follow up on this and find out more about why this announcement was so good for the industry. – Michelle Scheuermann, editor, Archery Wire.
Q: You released the new SPYPOINT FLEX this January at the ATA Show. I understand this new camera has a dual SIM multi-carrier connectivity to automatically pick up on the best cell phone carriers in the area. And that the cards are pre-installed and pre-activated. Can you explain how awesome this is for users?
Trent: It has definitely been the thing that has had people the most excited. It's the only cellular trail camera that offers multiple SIM cards pre-installed and pre-activated. No calls with customer service to switch SIM cards, no manually switching. The camera is automatically going to connect the best, most reliable network. That's huge for our customers for a couple reasons. First, no more worrying about which carrier model to select when buying their camera. That's obvious. But then once it is in the field, knowing that if something happens to that preferred network, that the camera will still be able to try to connect to other available carriers is huge. Frankly, it's overlooked. Right now, people are just excited to see dual SIM and no worrying about carrier models. In reality, the way we are deploying that, with the multi-carrier autoconnectivity, that's the real benefit. The camera is doing this automatically. The reliability that offers is huge.
Q: What other features does this new camera offer? Who is this camera best for?
Trent: Wow, where to start. The FLEX is just a powerhouse camera. I guess first we should talk about image quality. With 33MP photos, and 1080p videos with sound, that is a huge factor. Getting the most from those photos and videos is critical and that makes the FLEX stand out. The videos will also be transmitted to the SPYPOINT app, which is great. The antenna has been redesigned and calibrated specifically to the FLEX. Early testing has shown incredible connectivity, so users are going to love that. The new bottom-opening interface is intuitive, and gives the user test and format buttons right there that make setup easy. The FLEX is GPS enabled, which pairs well with the maps function in the SPYPOINT app, and should serve as a theft deterrent as well. Firmware updates are going to be able to be done remotely though the app also, which is always a concern for our users. There's just so much packed into this camera. I really have to hand it to our design team, they knocked it out of the park. So much of the feedback was just, "wow, that addresses everything I would want." As to who it's best for, that really is the genius of the design, it's great for everyone. The FLEX is such a choose-your-own-adventure type of camera. So many options exist for how to use the camera, that it can work for virtually anyone. The FLEX name was really intentional. It can be molded to your needs. That flexibility is key.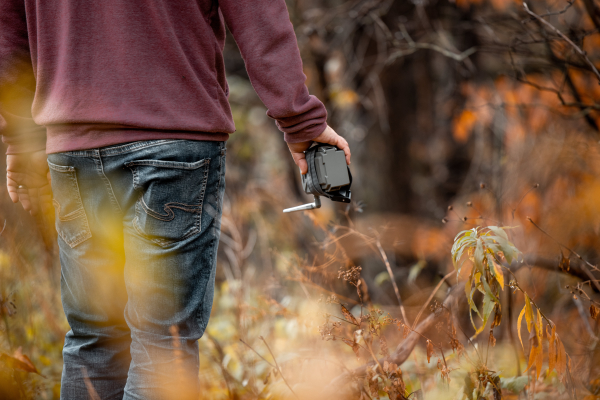 Q: When we met at ATA you were ecstatic as your website actually crashed during the launch of this new product! Of course, the crash didn't last long and SPYPOINT got things back up and going. But what does that say about the brand and this new product to have that happen?
Trent: It's a weird thing to be excited about, because you never want it to happen, but if it's going to happen let it be when you launch a new product, right? We launched it from the floor at ATA, and of course we had multiple channels going at the same time, and people wanted to get to www.spypoint.com/flex to learn more instantly. We pulled a lot of interest very quickly. We got it resolved in just a few minutes, but still, that kind of response is overwhelming, literally. If your site is going to crash, let it be because people just can't get there fast enough!
Q: Okay, let's switch gears. You write a lot of content for SPYPOINT – from social media to blogs. What do you look for in searching for content? Do you hire writers and content creators? If so, how can they work with you?
Trent: Yeah, we're putting out a ton of content these days. We've got two video series out currently. "Building Whitetails" is our monthly habitat series, hosted by Josh Pretzer. Then Brian Stephens and Billy Lawson host our hunting series "GameChangers," which does six to eight episodes a year. Last year we even did a cooking series called "Darn Hungry" that did really well. Then we have the SPYPOINT Podcast that I recently took over hosting responsibilities for, and of course the traditional written blog. So in any given month we're dropping anywhere from five to eight pieces of content, and managing that is one of my big focuses. It's all lifestyle stuff too, it's not SPYPOINT-centric. Most of our content doesn't really have anything to do with trail cameras, it's content that someone who might use trail cameras would like, but that's not the focus. I think too often content managers get so focused on the end goal instead of the user that they lose track of what they're doing. Our content has been really well received, I think mostly because of how authentic it is. I hunt. I fish. I like to create and produce the kind of content that I want to consume. If I make it, and I still like to watch, listen, or read when it's all over, I think most anyone else would enjoy it, too. We collaborate with some folks on our content that aren't with SPYPOINT full-time. Brian. Billy, and Josh all have other things that are their full-time job. Like I mentioned, I've recently taken over hosting the podcast. Then our written blogs are a combination of some really talented outside writers, Josh Honeycutt and Alan Clemons, both stalwarts and highly respected in the industry, and some pieces that I still write myself as well. There are a lot of smart, energetic, creative people at the table making Project SPYPOINT, our content platform, a success. The team is pretty full at the moment, but it's always good to know if someone else is interested in working with you on the content side, and they can reach out to marketing@spypoint.com.
Q: What else is up your sleeve at SPYPOINT?
Well, I'm not going to give much away, and I don't think you can blame me. Those familiar with SPYPOINT though, know we are market disrupters. AI filters have gotten really popular for cellular trail cameras in the last few years. We were pioneers in that space. When we launch the LINK-EVO, and again when we launched the LINK-MICRO, we were offering cellular trail cameras that could work for hunters on any budget. Our photo transmission plans have been led the way in simplicity and affordability for a while. SPYPOINT isn't a me-too brand. We're always pushing the envelope and innovating. Expect more of that this year. Everyone already knows about the FLEX, and that's a big part of what 2022 holds, but it isn't the only thing. And when it comes to the FLEX, there may be some surprises instore for that camera itself before the year is out. All I can really say at this point, is you probably want to make sure you're paying attention to the website, getting on the newsletter list, and following us on social. We've been shaking up the trail camera world for a while now, and there are no plans to stop any time soon.
Thank you Trent!!