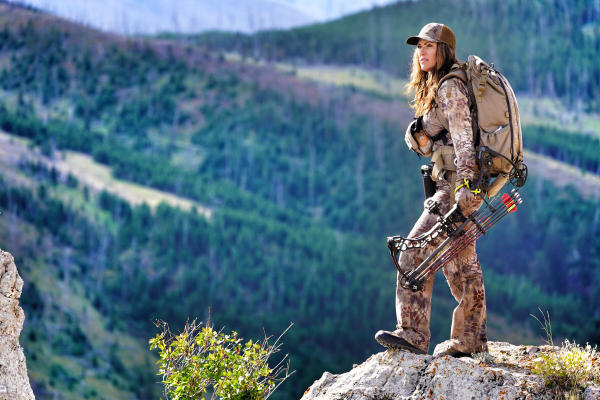 Jana Waller has been creating amazing outdoor television programming for a decade – and there are no signs of her slowing down. This multi-faceted, dynamic, entertaining, will-give-you-the-clothes-off-her-back, lady is currently is the backcountry in western U.S. Fortunately, I was able to find her before she left for a "5 Minutes with…" I think one of the reasons I like Jana as a TV host so much is what you see on TV is what she is in real life. There's no acting, there's no "re-inactment" on her hunts…just a girl and her bow chasing whitetails with her closest friends by her side.
Also, if you ever get the chance to bid on one of Jana's Swarovski-studded, beaded skulls at a conservation banquet – do it. They are a prize worth keeping. - Michelle Scheuermann, editor, Archery Wire.
Jana, this is your eighth season of backcountry hunting filming for "Skull Bound TV" on Sportsman Channel. How do you keep things fresh and new for you and the film crew? (aka, Jimmy the Cameraman) How do you keep pushing yourself without falling into a rut? (Pun intended, ha!)
It's easy to keep things fresh and new simply because hunting is so unpredictable. The terrain, species, weapon, weather, etc. is always changing. One week we're archery hunting elk in the mountains of Montana and the next week we could be chasing whitetails with a muzzleloader in Kansas. I don't have a film crew but instead have a one-man-band in the form of "Cameraman Jimmy" who is also a long-time backcountry hunter. Because it's just the two of us, it's more of a realistic hunt than a 'production' so to speak. We do a lot of our own DIY or do-it-yourself style of hunting which is challenging but all the more rewarding. We both love to be out in the woods, on the water fishing or in the mountains and that keeps it exciting. When it comes to wildlife and Mother Nature, you never know what you're doing to see and it's all the more thrilling when you're able to capture it on camera.
Let's talk social media for a second – you've been the target of haters in the past, but it seems things have calmed down lately. (Knock on wood) Can you attribute that to anything in particular you think? Do you feel the next 'moment' is around the corner? What's your strategy now vs your strategy from 2016/2017?
The 'haters' seem to come in waves. They often will choose a hunter to bully, send out a message to their minions and target the hunter all at once. The best advice I ever received when dealing with anti-hunters or hater comments is to simply block or ban them and delete their comments. There's no point in trying to get into a conversation about hunting, either from an ethical, moral, scientific or environmental stance, if the hater doesn't want to hear it. They often use name calling, vile comments or crude language to invoke a response but it's best just to ban them and delete their comments. That's my strategy and it seems to be working nicely.
How do you define success in 2018/2019? Personally and professionally?
I think success means happiness. I don't measure success in terms of money, status or in my line of work-notched tags. I think when a person is truly happy, I mean TRULY happy with themselves and their life then that is the true measure of success. Everyone measures happiness differently, but for me it has very little to do with possessions. It has nothing to do with status, job titles or social media popularity. It has everything to do with feeling balanced and healthy. Knowing that I'm trying to be my best self that I can be. It may sound a bit cliche but it's true. Living authentically and not for anyone else's ideas of what your happiness should look like. And for me, my personal life is my professional life and vice versa. The two are basically one in the same. If I was not in the hunting industry I don't believe my life would change all that much. I would still be trying to get outside and into the mountains as much as possible. I'd still be freelance writing and doing my skull business. I'm just really blessed to have a small place in this industry with "Skull Bound TV", where a camera is capturing my hunts, my conservation work and my skull business. I've never been happier as a person but a lot of that also comes with age. As I've grown, I've become more true to myself and to those I love. That is how I define success.
What's next?
It's been so much fun filming our adventures and hunts. I often wish my hunts from the two decades before "Skull Bound" were captured on camera. We often go back and watch older episodes to relive the exciting moments. I've been very blessed to archery hunt a variety of terrain and species including whitetail, mule deer, bear, elk, antelope, African wildebeest, ostrich, eland and even Maryland sika deer. "Skull Bound TV" airs January through June on Sportsman Channel, but all of our previous season can be watched and downloaded from MyOutdoorTV motv.com. We're also adding a bunch of never seen before footage to Carbon TV later this year.
Thanks Jana! I wish you all the success this hunting season.