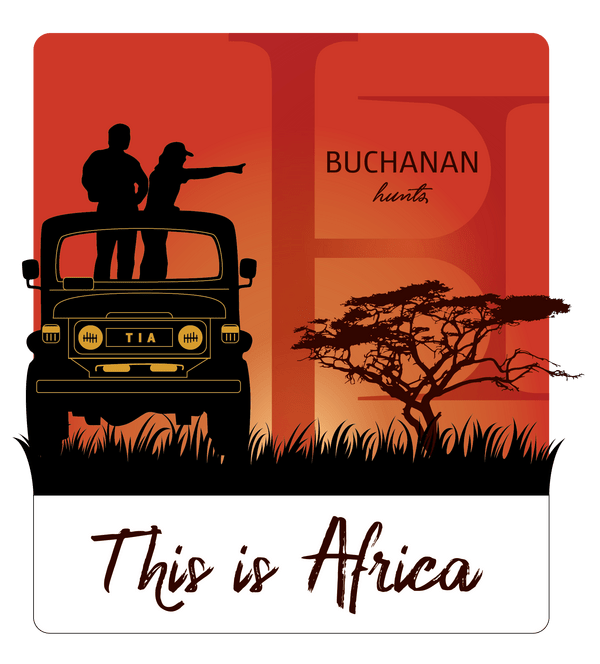 Houston, TX –Houston Safari Club Foundation (HSCF), a worldwide leader in hunting, conservation and education, is pleased to announce its partnership with the "This is Africa" television show. The dynamic brother and sister team of Andrew and Michelle Buchanan share a lifetime of experience in African hunting. Together with their award-winning production team, they tell the stories of conservation, community development, hunting and fishing across the Dark Continent. Michelle grew up on in a farming area, the only daughter of a prominent Zimbabwean Tobacco Farmer and Professional Hunter with her 3 brothers. Hunting was a part of life from a very young age and it was during these trips to all parts of wild Zimbabwe that the spirit of adventure and the passion for the outdoors was engraved in her. Andrews vast amount of knowledge about wildlife and habitats, as well as his deep understanding of the local people and their cultures, has seen him across the vast majority of Africa. Michelle and Andrew are the owner-operators of Buchanan Hunts. "This is Africa" airs on the Pursuit Channel.
Michelle Buchanan states, "Andy and I are very excited to be partnering with Houston Safari Club Foundation. We believe in supporting only the best hunting, conservation & education organizations and we feel exactly this way about the Houston Safari Club Foundation. We look forward to representing them and thank -you for your continued support."
About This Is Africa
"This is Africa" is different. Michelle, Andy and their award winning post production team will treat viewers to a new and refreshing concept whereby these young and energetic hosts leave behind the old formulaic, one dimensional hunting show and introduce the next generation natural history series that knocks down the third wall without deflecting from the hunt. The tunnel vision of yesteryear's shows will be replaced by knowledge of local people, cultures and animals (big and small). Poaching, antipoaching, community development and how these are directly affected by and affiliated with hunting will be an intricate part of this show. In a world filled with misinformation we'll portray the unbiased truth about conservation through hunting. To learn more visit buchananhunts.com/this-is-africa/ and pursuitchannel.com/portfolio/this-is-africa/
About Houston Safari Club Foundation
Houston Safari Club Foundation (HSCF), a worldwide leader in hunting, conservation and education, is a 501(c)(3) non-profit organization whose mission is to preserve the sport of hunting through education, conservation, and the promotion of our hunting heritage. HSCF has awarded 550 scholarships totaling $2.4 million dollars. HSCF conducts youth outdoor education programs, career training, hunter education and field experiences throughout the year. HSCF has provided almost $4 million in grants for hunter-funded wildlife, habitat and conservation initiatives. HSCF is an independent organization, is not affiliated with Safari Club International (SCI) or its affiliates and is not a chapter or affiliate of any other organization. Visit our website at wehuntwegive.org or call 713.623.8844 for more information. HSCF. We Hunt. We Give.