The turkey is put away and you made approximately 2.5 dishes with the leftovers (the .5 represents that one "leftover" dish that should NOT have been made…you know the one). Frankly, you are tired of turkey, which is good because there's a lot of other game meat in the freezer. If you are the host this holiday season – or you need to take a dish that travels well to your next holiday party – then a visit with Scott Leysath, aka The Sporting Chef is in order. I asked Scott for four recipes that I typically run into during a holiday season – a dish to impress any crowd, one that travels well, one that can shut any "I don't eat venison" person up, and then his favorite overall dish. Enjoy these recipes below, and follow Scott on Instagram and Facebook for more wild game fun. – Michelle Scheuermann, editor, Archery Wire.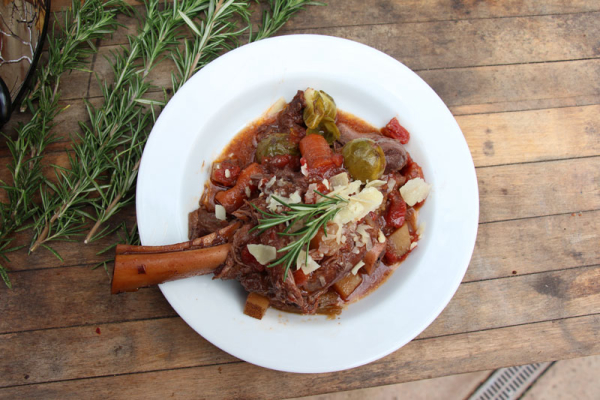 Scott's Favorite Holiday Wild Game Dish
Big Deer Shank
When it comes to cooking deer shanks, you know, the delicious part that many hunters either throw away or feed to the dog, most of us cut them into 3 or 4-inch thick sections and braise them until they're super tender. That's just fine, but if you really want something that'll make 'em say, "Holy crap, that looks incredible!," try slow-cooking a 10-inch lower leg section in a flavorful sauce. They'll want to take photos to memorialize what's on the plates before them.
It's a shame that deer only have four legs. The process is simple and really doesn't require a recipe.
1. Coat the shanks with flour and your favorite seasoning. Use more seasoning, which can just be salt and pepper, than you think it necessary. Much of it will fall off during the browning part.
2. Heat a thin layer of cooking oil, any kind, in a medium-hot skillet. Add the shanks and brown evenly on all sides. The browning makes it taste better and adds richer color to the meat.
3. Place the shanks into a slow-cooker (medium heat) or Dutch oven (low heat). Add some chopped vegetables, beef stock and red wine, just enough to barely cover the shanks and vegetables. If wine isn't your thing, just use the stock. Cover and do something constructive for the next 6 or 8 hours, depending on the size of the shank.
4. After 6 hours or so, check for doneness. When properly cooked, the meat will just about fall off the bone. Carefully place a shank on each place and, if desired, top with some shaved parmesan.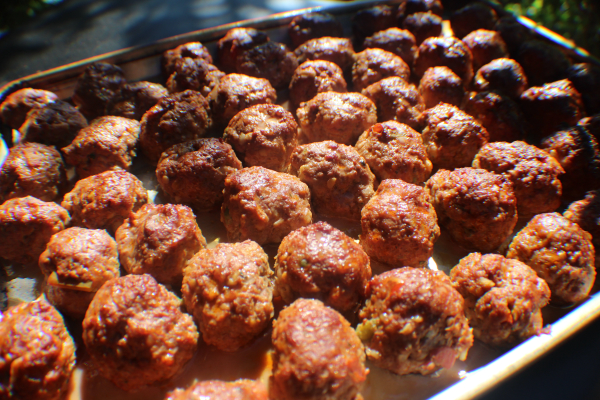 Scott's Favorite Easy-Traveling Wild Game Appetizer
If you can make it with ground beef, pork or lamb, you can make it with ground game meat. I've used this same recipe with ground waterfowl, upland birds and antlered game. It's an especially effective way to turn a pile of late-season snow geese into something good to eat. If chorizo is not available, use any type of spicy ground sausage.
If your next destination is nearby, wrap the hot meatballs in foil and load into a cooler. Add clean, dry towels to fill any airspace and act as an insulator to keep the meatballs warm. If it's a long drive, cool them completely and reheat on a sheet pan in a 350-degree oven.
I serve them with a medium-hot salsa verde and a sprinkling of Cotija cheese.
Ground Game and Chorizo Meatballs
about 25 meatballs – 3 to 4 per person for a light main course serving
3 cups ground game meat
2 cups ground chorizo
1 1/2 cups onion, minced
2 tablespoons fresh garlic cloves, minced
1 cup bell pepper, any color, finely diced
1 cup fresh cilantro, minced
1 cup tomato salsa
4 eggs
1 1/2 cups breadcrumbs
1 1/2 teaspoons kosher salt
2 teaspoons freshly ground black pepper
2 teaspoons chili powder
1/2 teaspoon ground cumin
1. Combine all ingredients and mix thoroughly. Form into golf ball-sized balls and press together. Place on a lightly oiled baking sheet.
2. Place in a 350-degree oven, covered grill or smoker until evenly browned. If you are going to vacuum-pack for later use. Allow to cool and then freeze before vacuum-packing.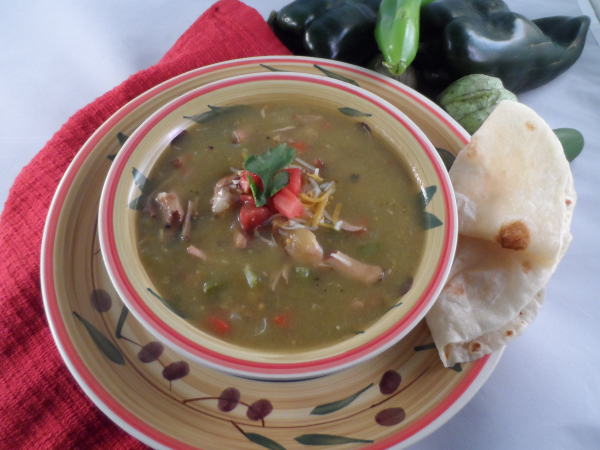 Scott's Best Overall Wild Game Dish to Wow Any Crowd
Wild Hog Chile Verde
This recipe works well with just about tougher cuts of meat, but it's my go-to way to impress a large group. Anyone who has cooked feral swine knows that an 80-pound female is milder in flavor than a 300-pound boar. The older males can be a tad aromatic while cooking so I usually prepare it outdoors.
This flavorful Southwestern stew can be served in bowls, topped with shredded cheese and chopped onions, and served with warm flour tortillas on the side.
8 to 10 servings
3 pounds (about 6 cups) wild hog shoulder and/or hindquarter, cut into 1-inch pieces
3 tablespoons vegetable oil
2 1/2 quarts chicken broth
2 cups yellow onion, diced
8 garlic cloves, minced
2 green bell peppers, diced
4 Anaheim peppers, diced
3 jalapeno peppers, seeded and diced
1 tablespoons dried oregano leaves
2 tablespoons chili powder
1 tablespoons ground cumin
1 teaspoon cayenne pepper
4 cups fresh tomatillos, skin removed; quartered
1 cup fresh cilantro leaves, chopped
salt and pepper
1. Heat oil in a large stockpot over medium-high heat. Add meat and brown evenly. Drain off any fat or liquid rendered during browning.
2. Add 1 1/2 quarts chicken broth and any additional broth or water to cover meat and bring to a boil. Reduce heat and simmer, covered, for 2 hours or until meat is tender and breaks apart, but doesn't fall apart with moderate finger pressure. Drain liquid from stockpot.
3. Add remaining quart of chicken stock and all other ingredients except cilantro. Simmer until peppers are very tender, about 45 – 60 minutes. Stir in cilantro and season with salt and pepper to taste.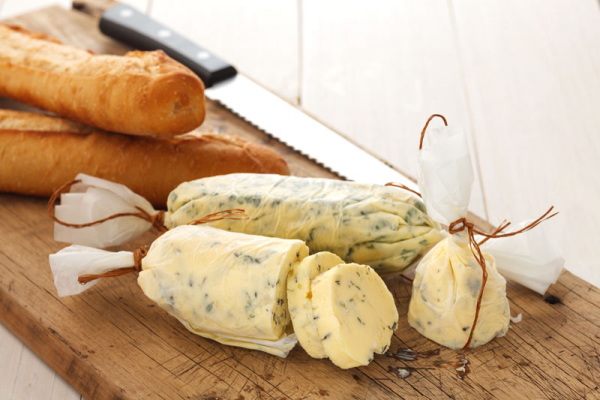 Scott's Go-To Venison Dish for Those Who Say Venison "Tastes Gamey"
It's been my experience that most folks who think venison is gamey, muttony or livery have been served venison that wasn't properly handled either in the field or in the kitchen. Rather than disguise the taste of venison with a potent marinade, the recipe highlights the mild, slightly sweet flavor of a well-trimmed deer (or elk) steak.
Compound butters are just softened butter mixed with flavorful ingredients and refrigerated or frozen. When it's time to serve a hunk of meat, top it with a few slices of compound butter and let butter melt over the meat when it gets to the table. As long as your guests like their meat cooked rare to medium-rare, this should change the minds of those who claim to dislike venison.
And then make this recipe, One Great Venison Steak, which has a recipe for blue cheese compound butter.